My pedigree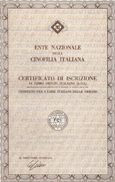 My pedigree is complete
...this means all my ancestors are identified and registered in a studbook recognized by FCI. In Italy this book is the ROI and ENCI has it.
My pedigree tells about blood lines of whome I'm bearer. Prestigious Austrian and German lines constitute the greatest maternal part and they contributed very much to built the basement of my breed in Europe and in other mainlands. The paternal part is bearer of new english lines . They haven't been too famous in Europe yet so they are very interesting.
I'm a mixture of both of them: I very similar to my beautiful mother , but I've got my father's strong bones and wonderful behaviour!